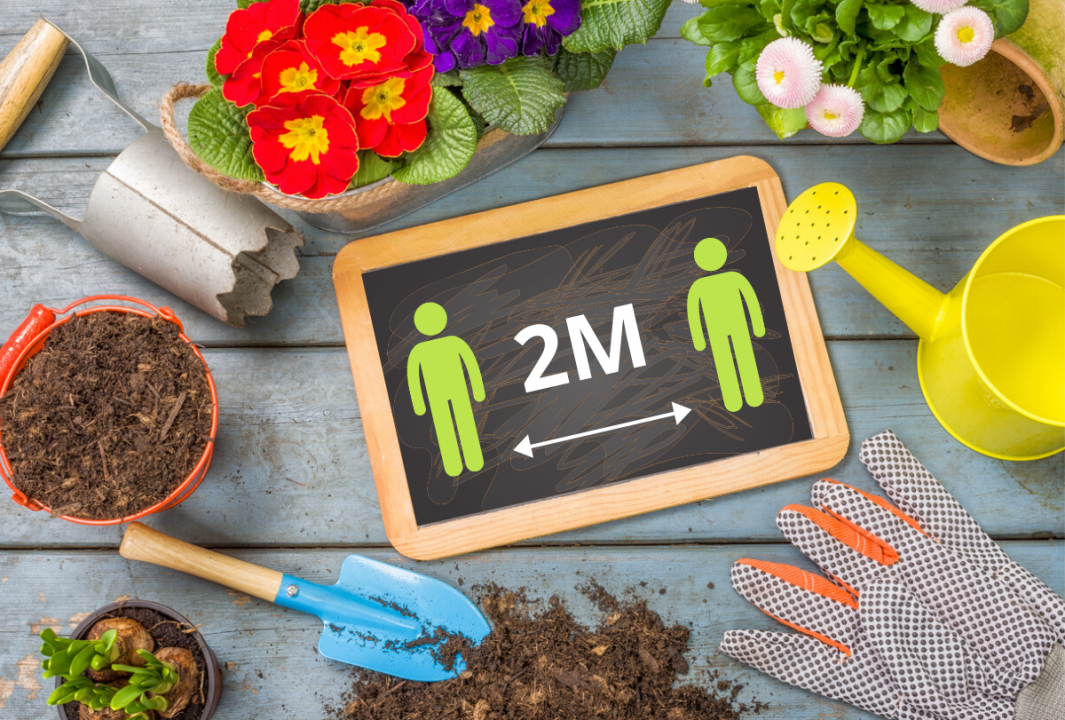 ***WE ARE OPEN. PLEASE READ IN DETAIL OUR SAFETY MEASURES BEFORE VISITING US***
A visit to Pugh's has always been a leisurely day out enjoyed by all the family; at present in light of the current pandemic we need to change the way we shop for the time being and be prepared, extremely sensible and safe. The government advice in Wales is still very much about protecting lives and being safe from COVID 19 so before you make a journey please thoroughly read our guidelines below.
Both staff and customers safety is paramount so in order for us to re-open safely we have implemented very stringent social distancing measures in both the Garden Centres at Radyr and Wenvoe and The Food Hall at Pugh's in Radyr. We are opening only for people who have a clear understanding of what they would like to purchase. We are not open for browsing, a day out, or to meet with friends from various households, please respect our guidelines at all time and read our safety guidelines below thoroughly before making your visit to us;
Opening Times: Monday – Saturday 9am – 5:30pm*, Sunday 10:30am-4:30pm.*Last customers will be allowed into the store at 5pm (Mon-Sat) and 4pm (Sun) to allow enough time for shopping and purchasing. Due to the outside queuing system, please do not arrive after 5pm (Mon-Sat) and 4pm (Sun) as you may not get a chance to visit because of the people waiting ahead of you.
COFFEE SHOPS AND RESTAURANTS CLOSED
TOILETS WILL BE CLOSED however accessible toilet will be available upon request.
We ask you to please consider ONE PERSON per household. (A maximum of 2 people per household, under 16's are allowed but must be accompanied by one adult at all times.)
There will be LIMITED numbers in the garden centre at any one time and this will be monitored in both centres:
In Radyr, we have a TV screen traffic light system. Our screen monitors customers who have entered the store and monitors numbers who are leaving at the exits which will show on the screen itself. When the screen is on green you may enter, when it is on red or amber we are at full capacity and it will turn green when someone leaves meaning you can then enter. Customers waiting will still be required to queue 2 meters in our outside queuing system
In Wenvoe, numbers are monitored manually by a member of staff on our door. You will be given an individually sanitised trolley that we ask you please return at the end of your shop to be re-sanitised for the next person. Customers waiting will still be required to queue 2 meters in our outside queuing system
There will be no trolleys or baskets available inside the shop, only at the entrance and in Radyr, we have a self service trolley sanitising station for you to clean your trolley handles
Please follow the one way system
We ask customers to please limit their visit to a maximum of 30 minutes
There will be a hand sanitising station at the main entrance, we encourage all customers to use this before entering the centre and please be aware not to touch goods unless you wish to purchase
Card Payments only at present, contactless limit £45. We ask all customers when using chip and pin to use the sanitiser provided at till point.
We do not encourage browsing at present, please ensure you have a shopping list of products planned prior to visiting the garden centre
The plant information office will be closed; however, staff will still be on hand for advice within a 2M perimeter; this does not include being able to carry goods to your car at present.
Please park sensibly and a safe distance from other members of the public
Till points will be screened off with Perspex sneeze screens and we ask that trolleys are pushed forward and products are loaded onto the tables provided
All staff will be wearing PPE and we politely ask customers to always keep your 2M distance
All shared surfaces will be sanitised regularly but please be conscious about what you are picking up and putting down within the garden centres
Please remember you DO NOT have to make a trip out, you can order a range of goods online here: www.pughsgardencentre.co.uk/products that we are adding to daily.
Please note that all of our concessions are now open. In Radyr, there is a one-way queuing system in place for Cotton Traders, Bonmarché and Pavers with entry through Cotton Traders and exit through Bonmarché. Each of our concession stores has their own individual policies and we ask that you please respect and adhere to these policies when visiting any of the stores here at the garden village.
And finally PLEASE RESPECT our team at all times. This is an anxious time and everyone needs to respect the rules and keep their families safe, including us. If people are not adhering to our social distancing measures then they will be asked politely to leave.
Thank you, from all at Pugh's