No trip to Pugh's Garden Village would be complete without a visit to one of our beautifully decorated and relaxing cafe's or restaurant...
The Orange Tree Cafe/Restaurant- Pugh's Garden Village Wenvoe
Port Road, Wenvoe, CF5 6AD
Open Monday - Saturday 9am-4:30pm (hot food served until 3pm Monday-Friday and 4pm Saturdays) and Sunday's 10am-3:30pm (hot food served until 3pm)
No pre-booking required (dine first come, first served). Dogs are allowed in the outdoor seating area.
The Orange Cafe/Restaurant is situated within Pugh's Garden Village Wenvoe, serving rustic, traditional home-cooked food for breakfast, lunch and light bites. All food is is freshly prepared in the Orange Tree Kitchen by our own in-house chef and trained team, and where possible using locally sourced, Welsh produce.
Enjoy our indoor seating, complete with rustic features, a real log fireplace and a green 'living wall', or enjoy dining alfresco in our brand new under-cover outdoor seating area.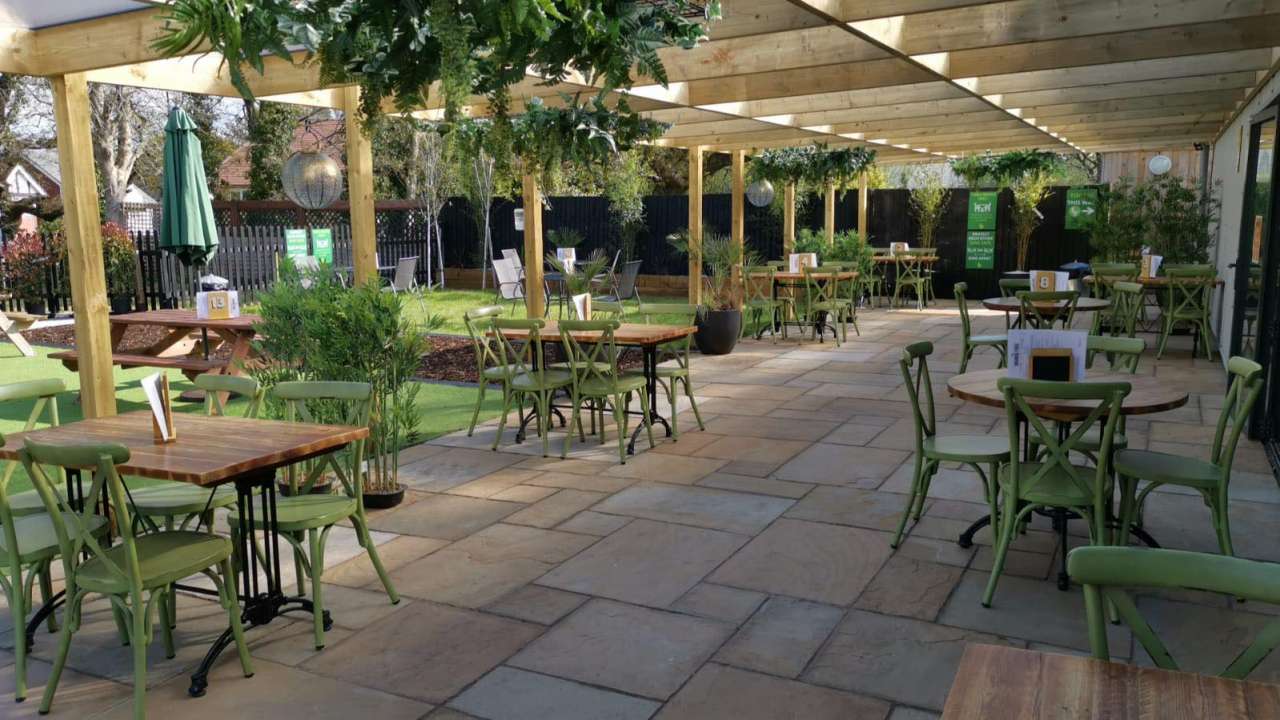 The Watering Can Coffee Shop - Pugh's Garden Village Radyr
Open Monday - Saturday 9am-4:30pm (hot food served until 3pm, light bites until 4pm) and Sunday's 10am-4pm (food served until 3pm)
No pre-booking required (dine first come, first served). Dogs are allowed in the outdoor seating area and specific indoor dog-friendly seating area.
Whether you're on a trip to the garden centre, or stopping by from a walk, cycle or hike along the Taff Trail, our Watering Can Coffee Shop is the ideal spot to relax for a light lunch or a coffee and a sweet treat! Choose to sit in our beautifully decorated indoor seating, including our airy and spacious conservatory. Or enjoy dining alfresco, under cover, with picturesque views of Castell Coch.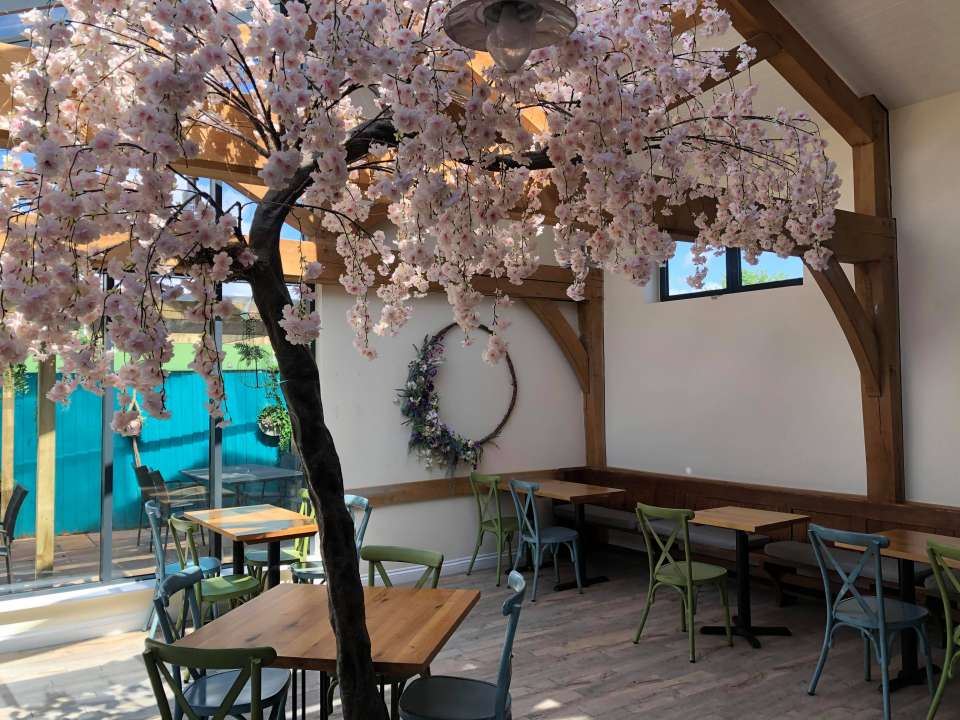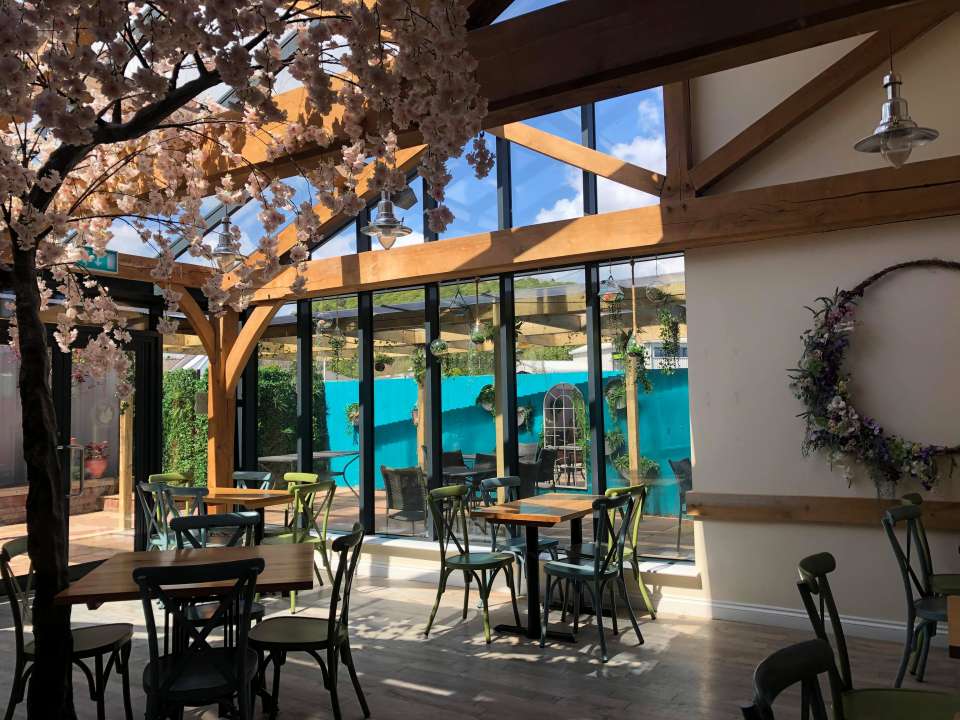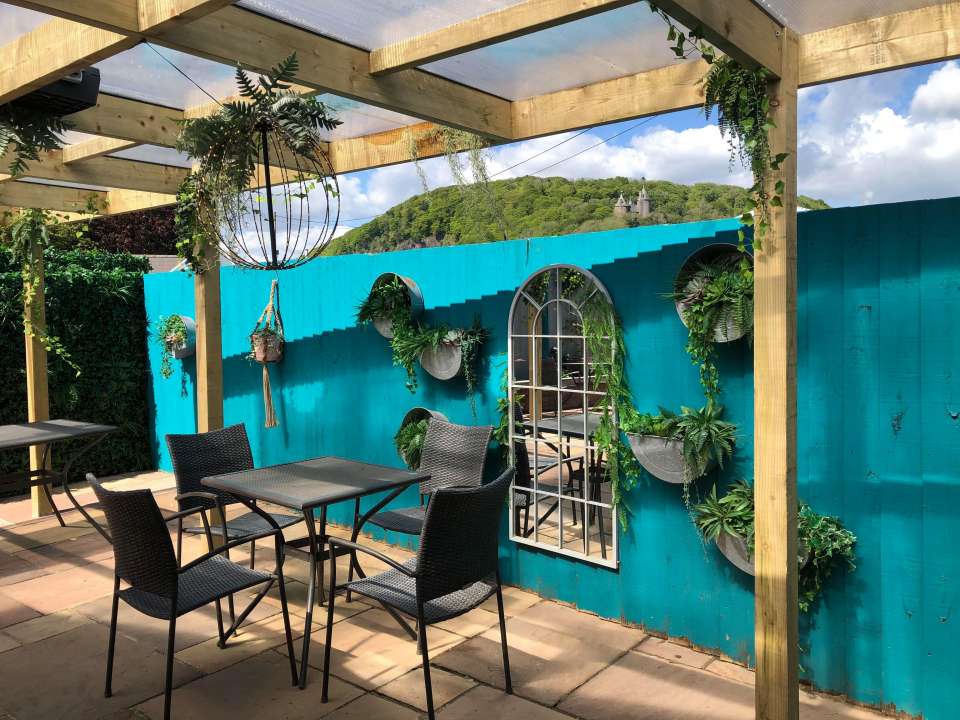 The Walnut Tree Express Coffee Bar - Pugh's Garden Village Radyr
Open indoors and outdoors Monday - Saturday 9am-5pm and Sunday's 10:30am-4pm
The Walnut Tree Coffee Bar, named after the Walnut Tree Viaduct in Taffs Well, is on hand if you need a quick cuppa, a cake or a light lunch. Find it located at our Food Hall in Pugh's Radyr. Here we use 100% Compostable Coffee Cups, cutlery and containers to save onsite energy and reduce the amount of waste in landfill. Enjoy hot drinks, home made cakes, baguettes, salad boxes, iced lattes, milkshakes, patisserie and more!
As you will be aware there are safety guidelines that we have had to implement for the safe reopening of our catering facilities but we are looking forward to welcoming you back, albeit a bit different to what you are used to, Pugh's new norm will be as follows:
Table service only in The Orange Tree (Wenvoe)
No need to book a table, it's first come first serve on the tables or a waiting system if full.
Please adhere to 2 metre social distancing at all times.
Card and cash payments.
We have implemented a track, trace and protect system at each of our restaurants where details are required by all members of your party (over 16 years of age). It is a legal requirement that these details are retained safely for 21 days in case of a COVID 19 outbreak.
Maximum of 6 people from different households (including children)
If you are meeting people from separate households, then you will need to do this prior to queuing. To ensure safe social distancing and track and trace information is obtained correctly, all parties will need to queue together (unless exceptional circumstances are presented). If someone you are joining is already inside, you will not be allowed to skip the queue to meet them.
You will be required to wait at the entrance before being taken to a freshly sanitised table.
Hands are required to be sanitised upon entry and sanitising stations will be available.
We ask that you please wear your mask unless sat eating at your table or exempt
You may be required to queue before a table becomes available, please be patient as we only have 30% of the previous capacity available.
All staff will be wearing PPE, please be patient with our new way of working whilst we find our feet.
Again we would like to thank you for all your support to date with regards to the social distancing measures we have needed to implement.
The Pugh Family