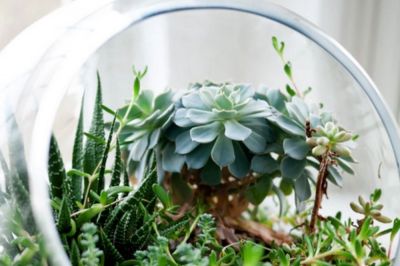 Do you wonder how to make a plant terrarium, after seeing them pop up all over the place recently? They have not only become very trendy but are a lovely way to grow plants in small spaces and require little care as well. Buying them already made up is an option but why not make one yourself? That way you get to understand the plants and can even personalise it as well.
Step one of how to make a plant terrarium
You'll need to decide on what you would like your terrarium to look like. Would you like a large glass bowl or a smaller jar size? Would you like a set of three or just the one show stopper? Whatever you decide make sure the opening is big enough for you to get the plants inside and of course, it must be transparent. You can buy from many places, including kits with everything inside ready for you to get started or you can venture out around some antique stores and find something really special.
How to make a plant terrarium step two
Next, you will need to gather all of the things you need to start building up the terrarium.
Find some small pebbles or stones which will be used in the base and help with water drainage - because there will be no holes! The pebbles allow the roots to take what's needed and not sit in wet soil.
Activated charcoal is a great addition and helps to keep bacteria away.
Then you will need some potting soil and if you are going to plant a Cactus or Succulent, use a special mix, otherwise, most potting soils will work just fine.
Step three for how to make a plant terrarium
When you have finished the above steps, it's time to get planting! You can choose some small plants from the many that will work well in a terrarium. Try Ferns, Tillandsia, Peperomia, Fittonia, or Begonias. Do some research and decide what you would like to grow. Moss can also look great. Don't forget you will need some small tools to be able to plant them into the soil, especially if the neck of your bottle or glass bowl is small. Tweezers are particularly useful!
How to keep a plant terrarium looking great, step four
When your terrarium is planted up and you are happy with how it looks, there is very little care needed to keep things growing. Use a sprayer to mist or water a little into the soil ensuring the plants aren't sitting in water. They will create their own mini microclimate.
For help with your terrarium accessories and plants, be sure to visit us in store.