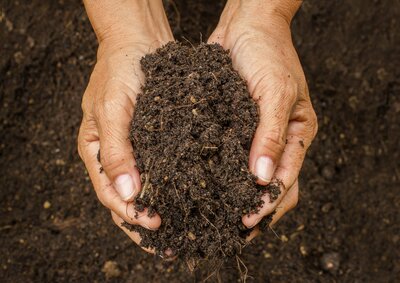 Soil is amazing!
It is the 'life support' for plants in our gardens, the old saying 'The answer lies in the soil' is absolutely true, and if plants aren't thriving it is often linked in some way to the soil conditions.
Let's look at some key factors to providing your plants with the best possible soil conditions.
1 – Know your soil.
Often, especially with recently built houses, the original topsoil will have been removed and the soil left in your garden is poor quality soil lacking the structure, microorganisms, and nutrients that plants need.
Try understand your soil, is it clay based? (heavy, often wet, goes hard and cracks when dry, maybe grey in colour) or is it sandy? (light, crumbly, dries out quickly)
Ask a Pughs team member for some suggestions for plants that might suit your soil conditions (see also the Pughs blog 'Right plant Right place')
Horticultural grade coarse sand or grit can also be added to heavy / clay soils to help water drain away.
Adjust your watering according to the soil you have – Sandy / quick draining soils will need watering more often than clay / heavy soils – whatever soil you have adding organic matter will help.
2 – Add organic matter to your soil
The ideal soil, should be slightly crumbly but not so much that water runs straight through it
Usually adding as much organic matter as possible before planting will help 'open up' heavy clay soils, or hold in some water in sandy soils.
3 – Use the right compost for your plants
Pughs offer organic composts and soil improvers – we would recommend 'Blooming Amazing' or 'Tree and shrub planting compost' when planting out into the ground or for generally improving the quality of your soil.
When planting in pots or hanging baskets we recommend 'Westland container and hanging basket compost'
If you are growing Ericaceous plants (such as Rhododendrons, Azaleas, Camellias, some heathers, and Pieris) you should use Ericaceous compost.
Specialist composts are also available for Seeds and cuttings, cacti and other houseplants.
If you are not sure which compost or soil improver you need please ask one of our team – we want your plants to thrive and give you maximum pleasure, and that often starts with providing the best possible soil conditions for your plants.
Did you know?
It is estimated that that a single handful of good quality soil can contain as many 'friendly microorganisms' as there people in the world …that is around 8 billion!! (as of June 2022)
Let's look after our soils and all those vital microorganisms!