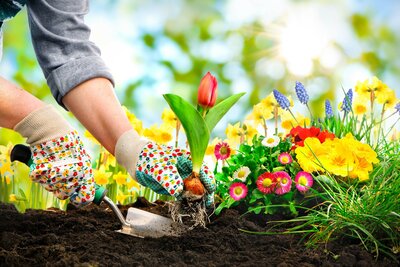 Have you ever put a lovely looking new plant into your garden and watched as it just sat there and didn't really grow or produce flowers? … one reason could be that you don't have the right plant for your garden – if we can put the 'right plant into the right place' it is much more likely to be happy, healthy and full of blooms!
Some garden plants thrive in sunny areas, whereas others (e.g. those originally from woodland areas) much prefer some shade, the trick is to 'work with nature' to make the most of the different conditions within your garden.
You could take this a step further and create 'themed' areas within your garden, such as; the shaded jungle border, the sunny beach, the wildflower meadow, the boggy wildlife border etc
Our staff would love to help you choose plants that could be planted together to create a wonderful show in the right conditions in your garden.
Here are some ideas to get you started with some planning suggestions for the right plants for your garden.
Outdoor plants for shade
Bedding plants – Begonias, Coleus, Lysimachia, (Fuchsias and Bacopa light shade)
Shrubs – Japanese Anemones, Rhododendrons, Azaleas, Hellebores, Aquilegia, Camellias, trailing Campanula, Dicentra, Euphorbia, Ferns, Foxgloves, hardy Geraniums, Heuchera, Hostas, Pieris, Fatsia, Acer Palmatum (Japanese Maples)
Bulbs – Snowdrops, Crocus, Aconites, (Daffodils in light shade), Anemone.
Outdoor plants for Sun
Bedding plants – Geraniums, Gazania, Osteospermum, Cosmos, Petunias / Surfinia / million bells, Verbena
Shrubs – Verbena Bonariensis, Salvias, Sedums, Rudbekia, Coreopsis, outdoor Palms and Phormiums, Yuccas, Lavenders, Roses, Spireas, Callistemon (bottle brush), Ceanothus, Escallonia, Choisya, Elaeagnus, Ornamental grasses, Alstroemeria, Lilacs, Sambucus
Bulbs – Alliums, Crocus, Daffodils, Tulips, lilies
Our Pughs staff can also show you plants suitable for damp soils or dry soils … in fact for any situation in your garden, but please remember that you can improve the soil conditions in your garden if they are too wet or too dry – please see our blogs on soil improvement and Mulching.